Power of Words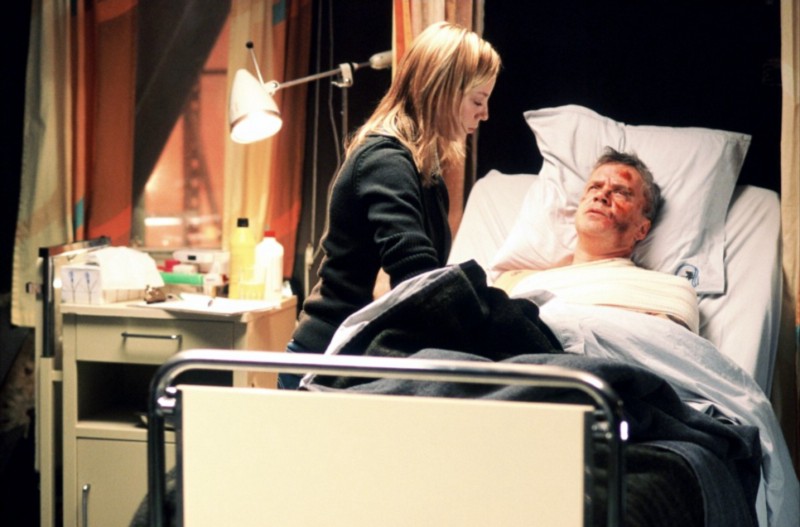 Movie: The Secret Life of Words
I have witnessed the power of words, it travels time and space, through various souls and engraves in our heart. All happened in a Spanish movie, "The Secret Life of Words", directed by Isabel Coixet.
The story was narrated by a little girl who was never shown on screen. She told a story about a quiet girl, named Hanna working in a factory. That's what she said in the beginning of the movie, "She has never seen my face, but I'm her only company." The innocent voice of her makes me wonder if she is the sound of solitude, the origin of Hanna' soreness by looking deep into her eyes.
Hanna got herself a long vacation since she has never taken a day-off. She left the factory and went to the bar, where she overheard a job offer in the middle of the sea, to take care a patient in an oil rig. That's where she met Josef, a temporary blinded man caused by a fire.
Mounting in the middle of the sea, with thousands of waves beating. The oil rig was just as lonely as an island. Different people were attracted to come to enjoy solitude. A chef who didn't want to go back to the continent, an oceanographer who was meant to be accompanied by the sea and the captain who never felt alright on land.Everyone came to the oil rig for the same reason, to be alone. Captain welcomed Hanna when she first arrived,
I like to be left alone, too.
Suppose that's why I am here.
Like the rest.
When you seldom talk, the words that you spoke out loud were more powerful than the others. Taking care of Josef drew them even closer. Josef is a funny, optimistic man, while Hanna didn't talk a lot about herself. Before the night Josef was sent back to the continent for intensive care, Hanna finally talked about her own story, a story that you wished it would never happen.
War, expected to happen far far away, took place in Hanna's country decades ago. Held captive by their own country' soldiers, she and her friend were turned into a tool of entertainment. If you know screaming will return with more pain and suffer, are you still going to scream crying for help? They feel ashamed for having managed to survive and it is going to last forever until your life has ended.
But as time gone by, after all the victims are dead, who will still remember that history repeats itself? People will forget what kind of crime people have committed. And the point is to feel the Power of Words, how it can hurt and heal, transfer one's emotion to another, tell a story and make people feel.At most,to make the story last for as long as it can.